As far as affordable time tracking/ employee scheduling software is concerned, the time has come for your business to start utilizing one or it's time for your business to switch from your current provider.  You're busy enough as it is, so we had a look at three of the most popular solutions – Deputy, PlanDay and TimeSheets.com.  Here's what we found.
Deputy Review
Deputy's intuitive interface, feature-rich capabilities and ease of use on tablets and smart phones make it arguably the most popular of the three employee scheduling providers.  It was founded on the idea that there must be a better way to track employee hours, plan shifts and sort out unforeseen employee scheduling problems than the old fashioned way of excel spreadsheets or worse, pen and paper.  As cloud technology developed and became more accessible, it became the ideal platform for Deputy's solution.

Interface and Schedule Creation
Of the several reviews available online, users have made it very clear that they enjoy the interface.  Once logged in, users will see a dashboard with pertinent information (this will correspond to the employee's position, managerial or not).  Creating schedules is as easy as dragging and dropping an employee's name into the desired slot in the calendar or by selecting the plus button within the slot and then searching by employee name.  It's easy to set the start and end times, break times, designated manager and more.
Different Locations
For businesses with multiple locations, it's easy to manually enter in the location and employee information with just a few clicks.  For larger businesses, batch file uploads are made possible by pulling information from your point of sale software or payroll company including, but not limited to, Quickbooks and Netsuite (heads up – there will likely be fees associated with this).  You can view the list of integration options available here: https://www.deputy.com/add-ons.
Mobile Friendliness
Deputy was developed with mobile device usage in mind and this is another benefit that customer reviews like to mention.  Notifications can be pushed out to mobile devices and schedules viewed by all users in real time.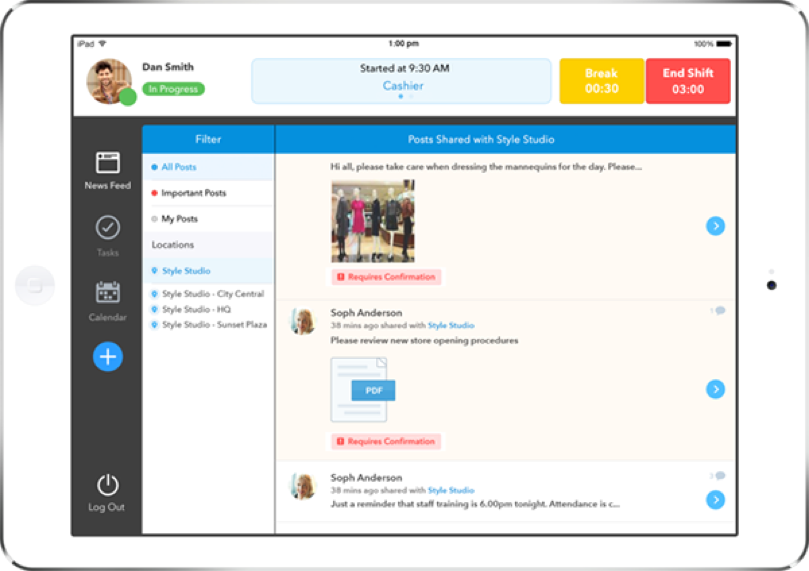 This real-time news feed cuts down the amount of time spent emailing employees with scheduling information and can even be used to include directions for that particular shift or other important notes that managers might include for their employee/s to see (the above includes a PDF with standard opening and closing procedures).
Below is the easy-to-use employee screen where it's clear which location, which shift and even who said employee will be working with.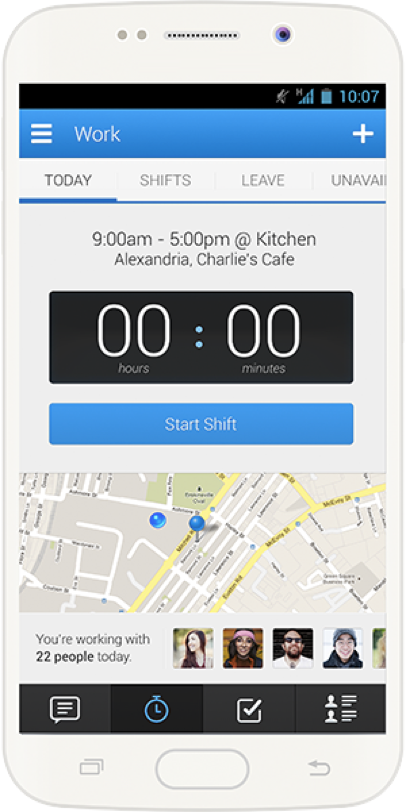 Worried about employees clocking in while not actually being on the premises?  Simply use Deputy Mobile's geolocation capability or even Deputy Kiosk's (Deputy's tablet application) face detection function to never worry about where your employees are again (this is set up by having the employee take a photo of themselves and then the face detection system comparing the photo to the face in the camera).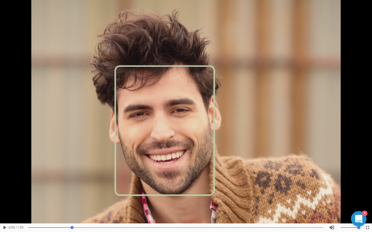 Easy for Employees
Here are a few more notable benefits.  If managers are so inclined, there is also the option for employees to set their own schedules.  Any time a scheduling conflict arises, an error message will alert the user to change one or the other.
Speedy Implementation
Customers have experienced speedy implementation times (one noted the combined time of the installation and employee training was less than 2 hours) and great customer service (most have said that the 24/7 support is very good and that most inquiries were responded to within 24 hours).
The Downsides
The two most noted downsides (which appear to be the only two downsides according to a number of reviews) are the lack of multilingual functionality on the platform (not the employee app – that comes with Spanish and 7 other languages to choose from) and the price.  Other reviews have pointed out difficulties with calculating monthly payroll as opposed to weekly (or bi-weekly) and the desire to have more functionality with the iOS application.
Reporting
The reporting capabilities for this platform are quite powerful and its analytics can be used to project which scheduling options will result in better ratio of wage costs to sales.  "Stress profiles" can be created for employees to set limits on how many hours they are allowed to work per shift, how many hours per week, days per week and minimum hours between shifts (overnight).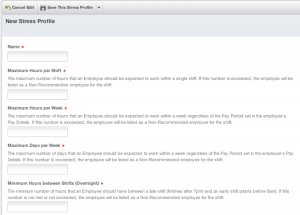 Pricing
As far as pricing goes, the most affordable option is $1 per employee per month for scheduling, announcements, tasking and 24/7 customer support.  If you're concerned with just the scheduling of your team, this is the way to go.  The "premium" package is $3 per employee per month and, in addition to the features of the aforementioned plan, includes communication, payroll integration, reports and timesheets.
Summary
Between the easy-to-use interface, robust reporting capabilities and 24/7 customer support (no matter which option you choose), Deputy is a solid choice for employee scheduling.  There's also a number of tutorials that can be found on Youtube, so if you're good at learning this on your own, there's a number of resources available to you.
Planday Review
Another employee scheduling software that has received highly positive reviews – Planday – is a solution that offers some unique capabilities to simplify workflows.  With getapp.com customer review titles like "Planday all day," "Nokia to iPhone" and "Saves me a Full days Work," it's easy to see that customers are enjoying its capabilities and the time they are saving by using it.
Across the board, their first piece of advice is to go for the trial period to see how it works.  As far as shift-based work, this solution is geared toward making it easy to set up schedules, alter them and even offer the ability for employees to swap shifts within the system.  Many of the reviewers approached the software with caution at first but, after trying their free 30-day (no credit card required) trial, were generally very impressed.
Creating Schedules
Setting schedules only requires dragging and dropping shifts into place. Planday will alert managers of compliance warnings, payroll forecasts and employee availability.  And collaboration between managers and employees is done in real time through the tool to ensure that everybody is on the same page.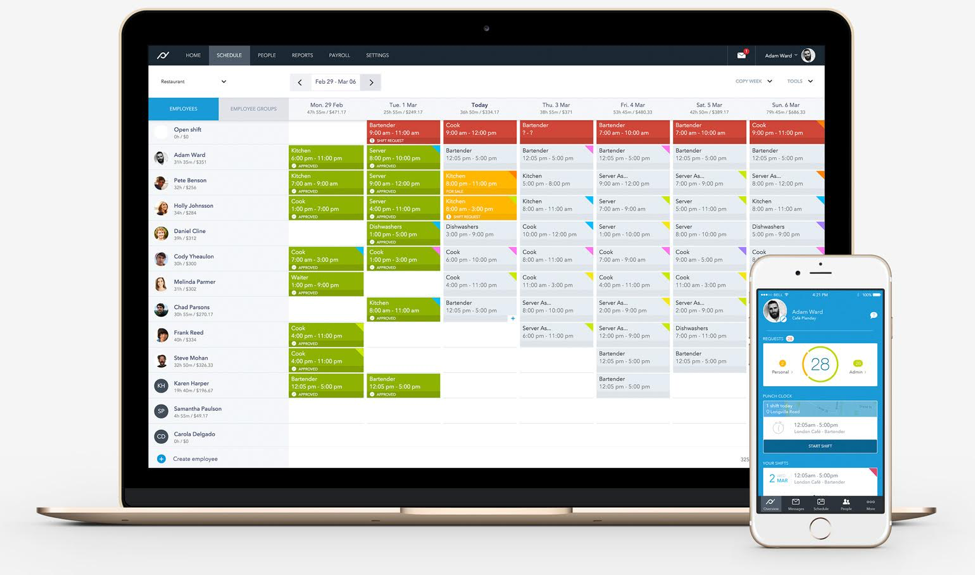 Re-Using Schedule Templates
One feature that is a customer crowd favorite is the ability to copy existing schedules to use as templates for future schedules.  There's no need to continually create new schedules from scratch since they'll already more than likely resemble the previous ones.  This saves tremendous amounts of time and money.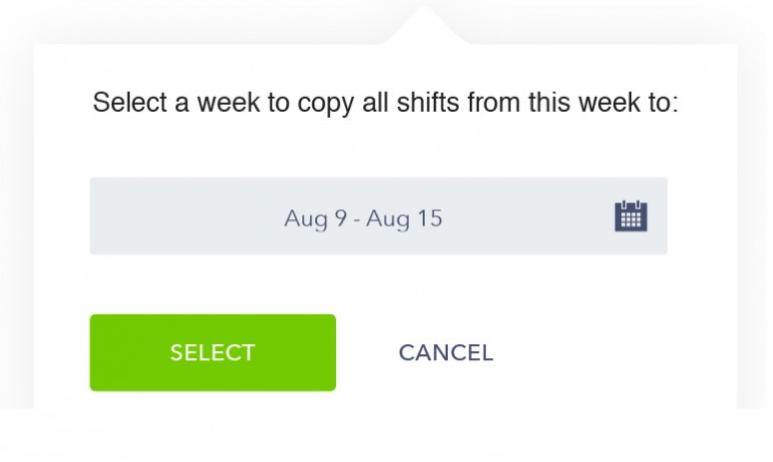 Tracking
Since all of your employee information will be in one place, it's very easy to keep track of which employees are most valuable and which ones are missing the mark.  Communication within the system is simple with the ability to send reminders, texts and emails to users.  Managers have the option to do things such as send notifications to all employees at a specific location.  Employees can reach out to fellow employees to discuss shift swapping (which must, naturally, be approved by their manager) or to their manager to ask questions about their shifts.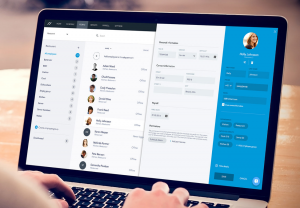 Filling the Slot of the Called Out
If an employee calls out sick without warning, it's your job to find somebody to fill that spot and usually, you have to do it quickly.  Another unique feature of Planday to help with this problem is the ability to examine who would be the best fit for the now open spot. Each employee will have a developed skill set profile.  When one person calls out sick, you'll be able to see who has the closest skill set of your absent employee.  Then, all you have to do is contact that person (and their information is right there for you) and get them in that slot.
Customizable Permissions
In addition to all of this, there's a lot you can do to customize your experience and workflow, such as assigning permissions to certain employees.  Since certain employees have no business looking at things like sensitive customer information, it's easy to set them up so they see in the system only what they need to.
The Cons
While the other two solutions we examined had more reviews, Planday had the least amount of downsides listed by reviewers.  Minor complaints were listed, such as lack of Windows phone compatibility or the contacts function not working in the app.  One reviewer mentioned an issue they had with not knowing whether an employee being considered for a swap was working a shift in the same day but Planday's customer service was kind enough to respond to the reviewer, thanking her for her feedback and promising to reach out via email to sort out the problem as the system is meant to prevent assigning one individual multiple shifts in a day.
Pricing
The "Starter" package is $2 per user per month and includes planning, communicating and changing shift plans with your employees while the "Plus" package is $4 per user per month which includes more features, such as salaried employees cost tracking, revenue tracking and advanced reporting, to name a few.
Summary
Businesses who go through a lot of shift changes would do well to choose this software.  The unique features of reusing the existing schedules as templates and the ability to fill in an open spot with somebody with a similar skill set really sets PlanDay apart from the competition.
Timesheets.com Review
Our last contender is a strong one, Timesheets.com, as it has robust reporting capabilities, real-time employee time tracking and the ability to easily import/ export information into/ from QuickBooks.
What the Reviewers are Talking About
The aspect our reviewers are most excited about is the real-time employee tracking that this solution offers.  Managers are able to log on at any time to see what their employees are up to.  This is great for making sure that your time and money are being expended wisely.  If you find that time is being wasted or that certain employees should be used in different capacities, you can change things around until all of your employees are right where they should be.  Between location, tardiness and overtime reports, you'll always be in control of the information you need to make the right decisions for your business.
Since the time clock is cloud-based and it's as simple as one-click, employees benefit from this, as well.  No more manual time sheet punching and no more filling in a notebook to log clock in and clock out times.  It's easy for employees to leave notes on their timestamps and request adjustments, if necessary, from one screen.
Employee Accountability
Like Deputy, Timesheets.com also has a geolocation option for the employee time clock to ensure that everybody is accountable.  But maybe you're looking for everybody to sign in at one shared computer.  In that case, you have the ability to lock it in so that employees can only log in on that computer.  By having customizable permission settings, you can avoid having to deal with "buddy punching" and even early clock in.  Everything is documented and visible on the audit trail.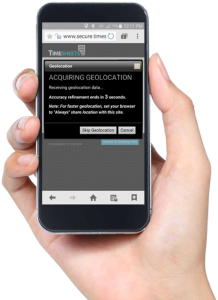 Reports can easily be generated at the end of the payroll period to send to your payroll provider.  If you use Quickbooks, there's already integration built into it but Paychex and ADP will work as well in terms of exporting the information.
Unique Features
As for features more unique to this solution, you have paperless mileage and expense tracking, built in human resources documents and project tracking software.  Mileage and expense tracking is important for making sure your employees on the road (or wherever they may be) are being reimbursed properly for money they're putting out.  It's important to keep your employees happy, right?  Not tracking this information could lead to confusion, disruption and consternation.  None of those things help the bottom line.  In the same way, you shouldn't be paying out more than they are spending.
Human resources documents are available in the database such as performance reviews, hiring forms, employee  training manuals, etc. so that people have access to the information when necessary.  Employee information can be stored here, too and permissions can be edited so that only designated supervisors can view employee files.

Then, there's another facet of this solution that we haven't gone over –  project tracking and job costing – but that's a little bit outside the scope of our discussion, since we're centered on time tracking software.
Disadvantages
Some reviewers have noted that, since the software is as powerful and as capable as it is, they feel they are underutilizing the product and are, in some cases, a little overwhelmed by the slight learning curve.  Given the robustness of the system, some reviewers also expressed that they are paying for all of that functionality but only truly utilizing a portion of it (usually the time tracking).  And a few reviewers noted that the system is not entirely customizable.  Permissions and parameters can be edited but the limitations on them were enough to make some reviewers notice.
Pricing
While the other platforms have a simple per user/ per month pricing structure, Timesheets.com offers two options – Flat Rate Pricing and Price with Photo timestamp.  From between 1 and 20 users, each tier covers a range of users starting with 1-2 users, then another price for 3-4, then 5-6 and so on.  After 20 users, the pricing is based on a range of 5 users (e.g. 20-25, then 26-30).  For more pricing information, please visit – https://www.timesheets.com/index.cfm?action=main.pricing
Summary
If you're a midsize business and seek to make the most of a robust system complete with employee time tracking, expense reporting, job tracking and more, Timesheets.com is a great choice.  Managers love how they can monitor employee activity in real time as well as the ability to edit permissions, if necessary.  While it doesn't integrate with a host of other software providers like Deputy does so well, it does integrate with Quickbooks and has exporting options for ADP and Paychex, which are the most widely used payroll providers.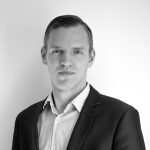 Bryan is a serial entrepreneur with a passion for cutting-edge technology, business intelligence and the world of online businesses.